Mozambique is located in southern Africa, where many people following traditional religions. This includes ancestor worship, witchcraft, and animism. There is a strong need for people not only to hear about Jesus Christ, but to be discipled to turn from other practices and wholly follow the Lord.
LANGUAGE
Portuguese
​
RELIGIONS
Animism
Ancestor Worship
Christianity
Catholicism
Islam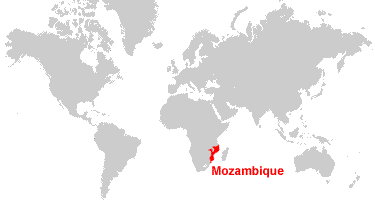 Helping Hands - Provides medical aids and family support to people with disabilities.

Nkateko (Blessing) - Crafts and discipleship for women working to sell their jewelry for a fair profit.

Chosen Generation - Offering a Jesus-centered community to local kids through games, sports and Bible teaching.

United Futbol Academy - Local boys attend to learn futbol skills and hear the gospel.
School director

A married couple or single man is needed to disciple other men
and pastors

Evangelism followed up with discipleship

English teaching for students desiring to learn English

Human trafficking prevention through training and equipping
local believers
CHALLENGES
The national language, Portuguese, is difficult to master.

Less than 30% of the population speak Portuguese.

Achieving tangible ministry goals in the first year is a challenge, which can be discouraging.

Many who identify as Christians do not possess a deep faith.

Traditional beliefs, practices, and spiritual warfare are prevalent.

Mozambicans are left without being discipled after receiving the gospel.
CULTURE
Welcome and a sense of 'togetherness' are key characteristics.

Saying 'no' or acting in a way that would hurt another person are social taboos.

Relationships are vital.

Polygamy is prevalent.

Colonised by the Portuguese in the 1500s and gained independence between 1964-1974.
Mozambicans are willing to hear and accept the gospel, but a commitment to growing a deeper faith is slower.

Planting a church is relatively simple; the challenge is to engage
the congregation.

Faithful Christians can be shunned by the community for rejecting traditional practices and rituals.

Many Christians continue to practice traditional religious rituals as well as claim their Christian faith.
For Mozambicans...

to have open hearts to understand who God is.

to make a full commitment to Him.

For unity within the OMS missionary team.

For endurance for missionaries and Mozambican Christians - sometimes challenges can be overwhelming.

Be informed!